Greeks is a food paradise with so many dishes to serve Greek will never make you feel hungry. Greek cuisine is a blend of traditional and modern flavors. The country spreads its flavorsome culinary influence all round Europe and the world.
Greek cookery is marked with the wide use of Mediterranean vegetables, olive oil, grains, fish, yogurt, wine (white and red), olives, pasta (especially hilopites), and grains. The Greek dishes are influenced by the Mediterranean diet that includes fresh vegetables, fishes, and seafood, making it more towards Mediterranean cuisine. While, meat is used less, except for lamb.
Greek serves some of the best food to the masses. With the dynamic taste of flavors that changes with season and geography, Greek has some mouth-watering to try on. Here, is the list of some of the best dishes prepared in the kitchens of Greek that you should graze on your itinerary to Greek.
Amygdalto – A special Greek cookie
Amygdalto is a widely popular cookie in Greece. Almonds are the dominating ingredient in this cookie. A gluten-free cookie is sure to satiate the cravings of a true cookie lover. You can enjoy the Greek cookie with a warm cup of Greek coffee to give it a perfect match. The dish is a true example that having healthier diets doesn't mean you cannot indulge in desserts.
Courgette Balls
This veggie starter should be there in your list of favorite dishes, for sure. These Greek balls are crispy on the outside with a creamy texture on the inside. Zucchini is the main ingredient of this dish. Once you try this dish all your taste buds will be mesmerized. A perfect blend of flavored texture, salty& tasty feta cheese (which provides a creamy texture inside) with a bit of fresh mint.
This dish is widely available in Greek restaurants and is served hot with authentic Greek tzatziki sauce.
Dolmadakia (Stuffed Grape Leaves)
Ahhhh, another relishing dish from the traditional Greek cuisine. These are delicate wraps made with vine leaves or grape leaves. Inside the leaf is stuffed meat of ground lamb or beef and one vegetarian option is stuffed with rice. This one is the most common and palatable dish served by the Mediterranean cuisine.
Traditionally, the wraps are stuffed as an appetizer with lemon wedges but you can have them as a side meal or main dish.
Ellinikos- A special Boiled Greek coffee
Ellinikos is the name for coffee in Greek. It's a perfect Greek coffee served in a traditional long-handled coffee copper pot known as briki. Greek coffee is different from normal coffee in a way that Greek coffee is boiled rather than brewed. Ellinikos is a healthy beverage that can be consumed slowly three to five times a day.
There are three different tastes of Ellinikos like Vari Glyko which mean strong& almost honey-sweet, Metrios meaning medium sweetness and Sketos meaning without sugar.
Frappe – A Relishing Hot Summer Drink
Frappe is an iced coffee drink perfect for hot summer days. Two main ingredients in this are water and instant coffee granules. Once mixed it becomes addictive, delicious and frothy. With such a strong appeal perfect pick-me-up drink without extra calories. Health-conscious can also sip it.
Gyros –A Perfect Meal Choice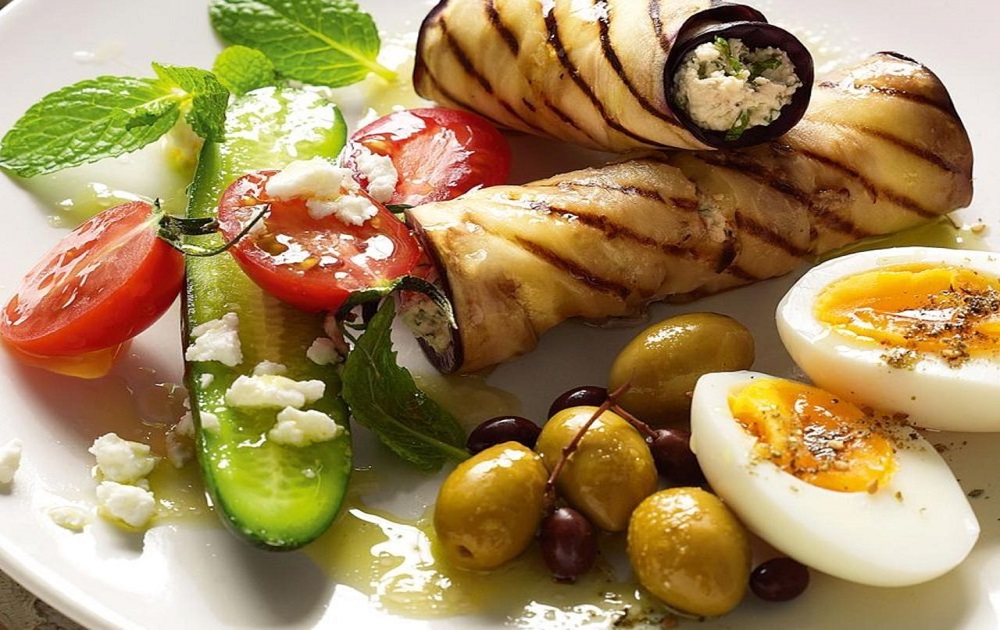 Gyro or Gyros is a Greek dish made from meat cooked on a vertical rotisserie. Meat is roasted vertically and turned on the spit it is known as Gyro. Wait, it's not ready to be served yet. Then the slices of Gyro are placed in a pita with various taste enhancers including sauce, onions, lettuce, tomatoes and potato chips. Oh, and it's ready to be tasted. This one is a very economical meal choice and yummy too.